Alicante,
By the Sea: Visit the best winery in Alicante and enjoy delicious red prawns in Denia
87.00€
---
This Gastronomic Tour in Alicante is one of the most exquisite experiences in Spain, come with us to the province of Alicante to visit the most exclusive winery that cultivates old "Monastrell" grapes, grown only in the province of Alicante!

Not only this but after the wine tour our private guide will take you to the coastal town of Denia, an hour away from Alicante known for its fresh red prawns where you will have a gourmet meal at one of the restaurants!
This private gastronomic tour experience includes (it depends on the option you choose, here we describe the complete package):
Winery tour (Benidorm) - it includes visit to the winery and tasting (2 hours)
Gastronomic Experience to taste red shrimps in Denia - an unforgettable gourmet menu
A professional local guide and a comfortable transport
👉Tour with very flexible prices, check our price configurator
↺ Book now and get 100% refund in case you need to cancel. See our refund policy


What is included
Starting in the morning, 

your private guide will pick you up

 from your place of choice, and will drive you to Benidorm. During the trip to the winery, the guide will tell you about the 

gastronomy and culture of Spain and Alicante

Visit to an internationally known winery in Benidorm, which consists of:
  On the one hand, a guided tour of the facilities starting in the EXPERIMENTAL PODS FIELD, continuing with the air-conditioned FINAL PRODUCT room, the BOTTLING ROOM and finishing in our subway CAVE with more than 1,200 American and French oak barrels.
The second part of our experience consists of a tasting in our garden area and, under a beautiful Riu-Rau typical of the area, we will offer you 7 of our best wines:
1. White Chardonnay 2020
2. Rosé Monastrell Native yeasts 2020
3. Monastrell- Merlot 2017 - 12 months in barrels
4. Finca Xaconero - 2017 - 12 months in barrel,
5. Estrecho 2017 - 16 months in barrel,
6. Santa Rosa 2016 - 17 months in barrel,  
7. Dolç de Mendoza 2014. A "Premium" sweet wine made with Monastrell 36 months in barrels paired with Chocolates Valor.
All this accompanied by a tasting-pairing of their extra virgin olive oil (EVOO), toast of goat log, selection of Spanish sausages, plus a selected cheese board of Cerrón Cheeses (semi-cured sheep, semi-cured goat and Manchego sheep with 24 months of healing).
An experience of approximately 2 hours that will not leave you indifferent.
Excursion to Denia to taste the famous Denia red shrimps

Towards the north, forty minutes from the winery is the town of Denia along the coast where you will experience the cool sea breezes and fresh red prawns! The town of Denia is famous for its coast which includes a lot of fun experiences when you travel there, such as fishing. No wonder, it is known for its amazing seafood and exports it all over Spain. 
Denia is undeniably a pleasurable experience for those traveling to Spain to explore the culture, food, and scenic beauty. On the trip to Denia, you and your group will stop by the coast to see the magnificent sea and silhouetted city view. 
This unique Alicante winery tour is made in English, French, German and Spanish
Please contact us if you have any question regarding this tour : write us at experience@gastrocult.com or give us a call on +34 655 53 51 55
Remember that this tour offers 100% refund in case of cancellation up to 6 hours before the experience starts. After that time, the refund is the 90% of the amount paid.
Customer Reviews
Kelly Sightam 
We woke up this morning saying what an absolutely perfect day it was yesterday! Guillermo was very professional, calm and friendly. It was lovely to be shown round by a local The lunch was the best we've had since being here. Genuinely gorgeous food. Maria who served us was so helpful and friendly. She messaged me the recipe for their olive oil ice cream because we were such fans. We used the preloaded card and I could really recommend that over a pre fixed menu- as it gave us flexibility and Maria guided us through the menu and helped us pick anyway  The winery was perfect. Really special and the setting is a gorgeous part of Alicante we wouldn't of otherwise have seen.  Compared with other tours we've taken I would say this experience felt far more bespoke. The transfers and individual attention set your company apart from the other more mainstream operators. We felt it was more than good value for money and would insist anyone we know who comes to this area to use your tours! Thanks again Maria, it really has been a highlight of our holiday 
1 week ago
Jorge Rodmo
Fantastic food!! The winery tour was very complete, we loved the tastings, so many! We bought some bottles to take home and became very fans of Monastrell grape variety.
4 weeks ago
Jeremy Steven 
What a great experience we had in Alicante! Very tasty food, great guide. We started from Benidorm, not very long in the car, so many details we didn't know. Totally recommendable.
3 weeks ago
Elisabeth Turner
We totally enjoyed this tour that we found by chance on internet. The visit to the Winery is a must if you are in the area, also the lunch by the sea, very tasty food!"
a week ago
Lili M.R
We had a bit of confusion with the pick up place but then everything ran as expected. The guide was very kind and took us off the normal path to show us some parts of the city. He knows alicante very well and we enjoyed his stories a lot. The food was a lot and amazing!
3 months ago
By the Sea: Visit the best winery in Alicante and enjoy delicious red prawns in Denia
Book now
Where is this experience happening?
City: Alicante , Province: Alicante (Spain, Europe)
Meeting Point
Place of your choice
Price Configurator for this Tour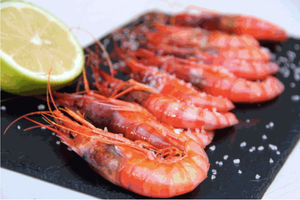 ---
87.00€
---
Define your Group
---
---
Please select starting time:
---
2034 people bookmarked this place
What you should know
All orders are subject to the availability of the chosen gastronomic experiences on the dates desired by the user. If there are any difficulties in carrying out the experience, GastroCult will contact the User to inform him/her, offer him/her an alternative product and, if necessary, reimburse the amount paid. The user may cancel the contracted experience within 48 hours of contracting it without having to indicate the reason. Likewise, the user can cancel the experience without the need to justify any reason, with the right to a refund of the full amount paid, provided that the cancellation is made 6 hours before the experience starts.
For any incident in the processing of the order, the User may contact by e-mail to the following address experience@gastrocult.com.
Our entity is a member of Confianza Online (non-profit association), registered in the National Register of Associations Group 1, Section 1, national number 594400, CIF G85804011, Calle la Palma 59, Bajo A., 28015 Madrid (Spain), telephone (+34) 91 309 13 47 and fax (+34) 91 402 83 39(www.confianzaonline.es).
These General Conditions are governed by Spanish law. Also, in compliance with the provisions of the Alternative Dispute Resolution Act, we inform consumers that, as a member and under the terms of the Code of Ethics, users can go to Confianza Online for the alternative resolution of any disputes(https://www.confianzaonline.es/como-reclamar/formulario-de-reclamaciones/). If these refer to electronic transactions with consumers, or on data protection when related to this area, the complaints will be resolved by the Mediation Committee of Confianza Online, accredited for the alternative resolution of consumer disputes. If the complaints are about digital advertising, or about data protection when related to this area, they will be submitted to the Self-Control Advertising Jury.
We also remind you that you can access the online dispute resolution platform of the European Union by following this link: https://ec.europa.eu/consumers/odr/main/?event=main.home2.show.
Want coupons, love notes, thoughts about Paella?
Get our weekly email
Subscribe to Gastro Cult news